---
Ceramic Coating Safe Car Care Kits
Our Ceramic Coating Safe Car Care Kits are specially packaged with the latest products & current methods in mind. We have included several packages at different price points depending on your exact needs. 
Each kit includes the standard two buckets, Dirt lock guards and Silica Soap. 
The Silica Soap & Hydrosilex Recharge are safe to use on all Ceramic Coatings. If you vehicle is coated with Ceramic Pro, Cquarts, Opticoat, Fenylab, IGL, Gtek, or any other coating, these kits are what you've been looking for.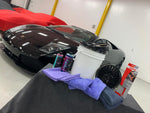 Sale price $219.00
Regular price
$259.00
Sale
Sale price $349.00
Regular price
$449.00
Sale