---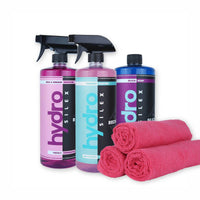 HydroSilex Enthusiast Pack includes:


32 oz Rewind - HydroSilex Rewind is a wax and grease remover ideal to use prior to installing HydroSilex ceramic coatings.
32 oz Recharge
- 
HydroSilex Recharge protects virtually any type of surface. Easy installation and once cured, it creates a transparent top layer that adds gloss and protects from the elements.
32 oz Silica Soap - Aftercare soap specifically for HydroSilex ceramic coated surfaces for the automotive industry. It will refresh your ceramic coating and make it look as new as when it was first applied. 
10 pack of Microfiber Towels - Professional grade and specifically designed to prevent scratching of the vehicle's paint through use.