---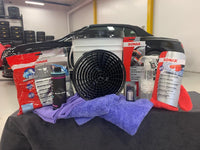 Sale
This kit includes everything you need to properly prep, apply & care for Feynlab Ceramic Lite. The only thing you may need is the paint correction. If you are happy with the current condition of you paint's surface. This is the perfect package to seal in a protect it. 
Includes:
2 x Buckets **Two bucket method 
2 x Dirt Lock Guards **Keeps debris on the bottom of the bucket and helps to prevent scratches.
2 x Plush Edge-less Microfibers
1 x Sonax Flexi Blade Squeegee
1 x Sonax Micro Fiber Drying Towel
1 x Hydrosilex Silica Soap
1 x Feynlab Panel Prep 
1 x Feynlab Ceramic Lite