---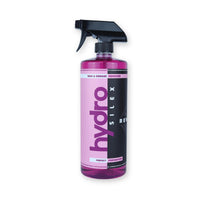 HydroSilex Rewind is a wax and grease remover ideal to use prior to installing HydroSilex ceramic coatings. For the ceramic coating to bond properly, the surface needs to be clean from any wax residue. After washing the car, use Rewind to strip the surface from any wax or grease that may have been part of the wash soap. The surface is then prepared perfectly for a HydoSilex Recharge or Marine application. Rewind can also be used to remove Recharge or Marine if necessary.
Application
On a clean car, spray Rewind onto the surface. Use high-quality clean microfiber towels and buff free of residue.
Note!
Do not apply to the car in direct sunlight. Always use clean microfiber towels.