---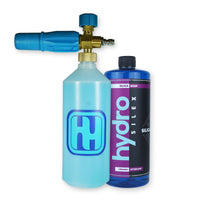 (1) 32oz Silica Soap & (1) Foam Cannon
Turn your weekly car wash into a foam party by combining HydroSilex Silica Soap with our new HydroSilex Foam Cannon. Allow the cleaning suds to penetrate deep into the cracks of your vehicle removing all the dust, dirt and debris that are normally missed with a traditional bucket wash. You will need a pressure washer to connect. 
-Blends water with soap for deep-cleaning action
-High-powered, touch free foamer covers dust, dirt and debris with a think lather of foam
-Adjust your soap to stream ration with a simple twist of a knob
Tips For Use:
1) Fill the bottle with hot/warm water before adding soap - help your solution mix together.
2) Wash foam nozzle after each use with clean water.
3) Requires pressure washer
4) For use with HydroSilex Silica Soap ONLY